Although Christopher Plummer had appeared in quite a few TV films, this was one of his first feature films – and it is a good one.
He has just passed away, so I thought we would do an article on one of his lesser known earlier films.
'Wind Across the Everglades' is set in Florida – in the Everglades – at the turn of the century. It is the story of a booze ridden conservationist played by Christopher Plummer attempting to preserve the area's wild life against the onslaught of property developers.
ABOVE – On Location in the Florida Everglades
The Technicolor outdoor location sequences are visually stunning
Also starring is Burl Ives in the type of role he had played before as 'Big Daddy' in Cat on a Hot Tin Roof' and also in 'The Big Country' just before that – in fact these three films came out pretty close to one another.
I always had the impression – and still do – that Burl Ives could hold his own in the acting stakes no matter who he was cast with – he is a powerful personality and someone who adds more than a bit of style to whatever film he is in.
His 'Ugly Bug Ball' song from 'Summer Magic' for Walt Disney some years before this is so memorable – and he delivers it perfectly
Chana Eden played the female lead in the film – she didn't have that well known a career but after this, she was in quite a few high profile TV shows such as 'Rifleman' with Chuck Connors
Here she is ABOVE in Florida on the set of 'Wind Across the Everglades'
In terms of film making and indeed in terms of general interest I have always had a fascination for the Everglades ever since seeing one of my favourite Westerns 'Distant Drums' at a showing in our local village hall in the early fifties. Great Film.
I later learned that some of the underwater swimming sequences in the MGM Tarzan films were done at Silver Springs in Florida – certainly that was the case for 'Tarzan Finds a Son' and 'Tarzans Secret Treasure'.
Also the classic 'Creature from the Black Lagoon'
I am really surprised that I don't know this film but now have purchased the DVD so expect I shall rectify that but I have the feeling that this is one I will really enjoy.
It does seem to have been a happy film to make from the photographs we see which is underlined by this charming one of the writer and leading lady
A very young Peter Falk makes his screen debut in this film
Screenwriter Budd Schulberg with actress Chana Eden on location of "Wind Across the Everglades" in Chokoloskee. BELOW
This is taken from a Review written at the time :-
When we reach the climax of the film Christopher Plummer is alone in a boat with Burl Ives – the self-acknowledged "king" of the poachers – and then the film takes fire. The showdown test of character and resolution between these two stubborn men in a sequence that takes some twenty minutes is exciting and colourful. Burl Ives in a red beard and black hat, adorned with the plume of an egret, and wearing a cottonmouth moccasin as a wrist adornment, is the lustiest looking thing in the film. He has it all over Christopher Plummer, who is adorned with little more than hair and sweat. Chana Eden plays a sultry swamp charmer The "swamp rats," are played by various roving actors, jockeys, prize fighters and circus clowns, but the natural outdoor settings, in the wilds of "the "glades," are for real. So are the birds that fly in clouds and the dawns and sunsets. There is definitely life in this odd film.

and – another Review – more recent with the film being showed at a Film Festival in 2019:-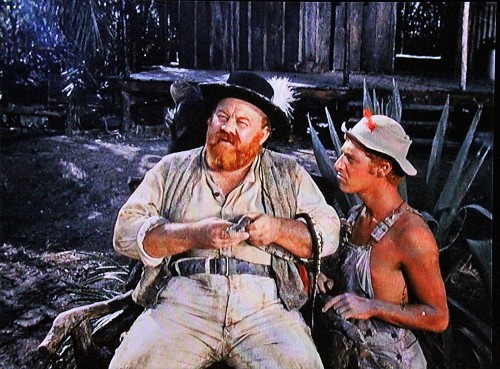 It's early twentieth century as game warden Walt Murdock (Christopher Plummer) intent on stopping the decimation of the local plume birds, slaughtered in droves to supply all those rich ladies with fashionable feathers in their hats, and finds himself at dangerous odds with both the town businessmen, and the fierce and brutal gun-toting poachers living out in the wild 'glades, leading to an inevitable confrontation with their larger-than-life leader Cottonmouth (Burl Ives).
With its unabashed focus on environmental concerns, its heavy 'nature' setting, what a unique oddball of a Hollywood film Wind Across the Everglades is. Rarely a Hollywood film of the 50's was particularly concerned with ecological concerns.
With so much of the production having been set clearly in the inhospitable Florida Everglades, as Christopher Plummer's courageous Murdock is taken in by the poachers for almost the film's entire second half, with Burl Ives' brutal Cottonmouth taking a liking to the young man, sensing a bit of a similar wild man in his spirit despite the fact that he knows he's there to end their livelihood and take him back to the law. — Director Nicholas Ray was fired during production (with legendary screenwriter Budd Schulberg having taken over at some point) makes this production – and film — all the more fascinating.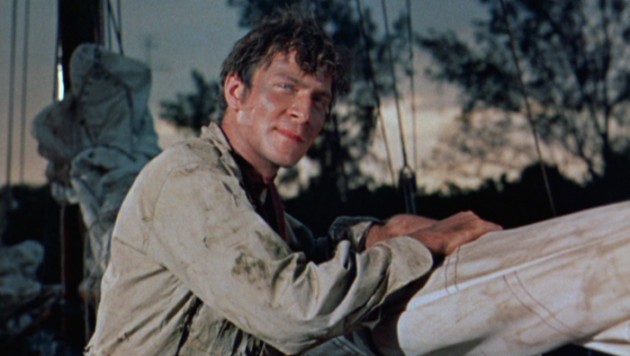 A young Christopher Plummer
It's a gorgeous looking film, with the various colours and textures of the swamp popping off the 35mm print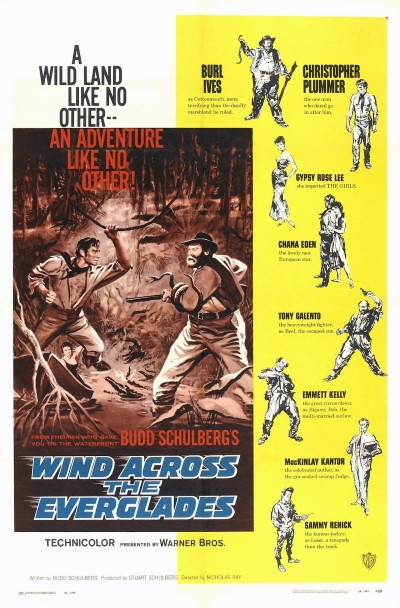 Not everything works in the film, though. While Cottonmouth's actions in the last third of the film, voluntarily agreeing to go back with Murdock, as his eventual prisoner, if Murdock can navigate his way through a murky and danger-filled swampland he is unfamiliar with and that Cottonmouth knows like the back of his hand, are never entirely convincing (feeling more like a script contrivance that no one ever overcame than something from the character). Murdock's love interest, played by Chana Eden, is even more thankless than these roles tended to be at the time, setting it up without much development or narrative interest.
"Wind Across the Everglades", a film I hadn't even heard of before, is a fascinating, beautiful film – an admirable one, obsessing over things not usual for Hollywood of that time, in its subject matter and setting. Even seeing it on a cropped 35mm print was worth it (the only other way it appears available is on similarly cropped DVD from Warner Archives).