A film based on Mark Twain's novel, 'The Millionaire Pound Note'
The Million Pound Note
A charming Gregory Peck totally excellent the part and the luminous Jane Griffiths is a treat.
The ending is a little predictable but the director does an overall good job
ABOVE – with Jane Griffiths
Jane Griffiths

Name Jane Griffiths
Role Actress

Born 16 October 1929 (1929-10-16) Peacehaven, Sussex, England, UK
Died June 11, 1975, London, United Kingdom
Movies The Traitor, The Impersonator, Tread Softly Stranger, The Gambler and the L, The Durant Affair
Jane Mary Griffiths (16 October 1929 – 11 June 1975) was an English actress who appeared in film and television between 1950 and 1966.
She played the female lead opposite Gregory Peck in The Million Pound Note (1954), but never appeared in another major film, and spent the rest of her career in B movies.
However, the film historians Steve Chibnall and Brian McFarlane praise her "unexpectedly poignant" performance in The Durant Affair, in which she evokes "a convincing air of struggling to contain past sadness".
She also appeared in an episode of Colonel March with Boris Karloff – a series shown on Talking Pictures recently
The Case of the Misguided Missal – SEE FURTHER BELOW

She died on June 11, 1975 in London, England, UK.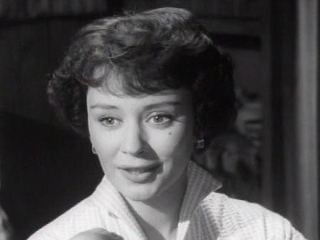 Jane Griffiths
Here Jane Griffiths appears in the Colonel March episode 'The Case of the Misguided Missal'
Here she acts alongside Boris Karloff, Chan Canasta and a young Anthony Newley
ABOVE – Jane in the arms of a young Anthony Newley