The 1951 film was based on the Josephine Tey novel – recently voted by the Crime Writer's Association as one of the Top 100 Crime Novels of All Time.
THE FRANCHISE AFFAIR – 1951  UK Michael  Denison is a small town solicitor ( lawyer)  who gets himself involved in a suspected kidnapping. Dulice Gray is a woman who along with her mother is accused of grabbing a local teenager and forcing her to become a maid.
She hires Denison to prove her innocence.  Very soon rocks are coming through the window and threats are coming thick and fast. Not as silly as it might sound – the film was directed by Laurence  Huntington.

The film was made in moody black and white. . The story was updated by author Jopsephine Tey to the late forties  and the film presents pleasant views of English village life at that time.   The script is extremely well-written.  As in films of this era and type, there is a great deal of dialogue whereas today both in TV , films  and maybe in life itself, people do not seem to converse to the same extent – I dont know why really.
The acting is, as always with films made in the golden years of British film making, is  good. There are also a number of future British film stars in small roles here including Kenneth More, Patrick Troughton and Jean Anderson and there is a delightfully dotty performance from  Athene Seyler as the lawyer's mother. Such witty and well-judged performances like those are always worth a look.
A review of the novel rather than the film went as follows:-
A true oddity. A novel that always shows up on various lists of the greatest mystery novels ever written, but it's hardly a mystery at all. It's loosely based on the true story of Elizabeth Canning, and it has a mystery premise: a young woman named Betty Kane accuses two spinster women, a mother and daughter, of kidnapping her in order to turn her into their maid. She claims that when she refused they kept her in an attic room and beat her. The story is narrated by the mild-mannered solicitor  hired to defend Marion Sharpe and her mother-  the two women accused.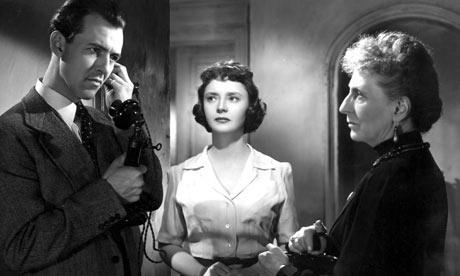 Michael Denison, Dulcie Gray and Marjorie Fielding – above
Josephine Tey was, in reality, the Scottish writer Elizabeth Mackintosh, who wrote just eight mysteries under her pseudonym. What makes her truly stand out from other writers during the golden age of the mystery novel is how unorthodox she was as a plotter; some of her mystery novels barely qualify as mysteries at all, including this one, for the simple reason that it is made clear early on who is telling the truth and who isn't. The suspense comes from wondering if the innocent will triumph in the end.
The film was made at Welwyn / Elstree Studios, Borehamwood in Hertfordshire, England. – The last film made here see below.
The story opens in a solicitor's office in a quiet country town. The scene is set perfectly. Robert Blair's usual business is conveyancing, wills and investments but, just as he is rising to leave the office, he receives a telephone call that will lead him to a very different case.
He is summoned to The Franchise, a large house behind a high wall on the edge of town. Marion Sharpe lives there with her mother in genteel poverty. The story he hears there is extraordinary.
Betty Kane had just left school. One day, she says, she missed the bus home from town. She accepted a lift from two ladies in a car. And those two women kidnapped her and kept her prisoner to act as their servant. Because they couldn't find anybody willing to work in their big house on the edge of town. She was locked up, beaten and kept hungry to make her comply. Finally she found a locked door and made her escape.
Betty Kane was played by Anne Stephens who after a film career lasting well over a decade – and as a child star – actually died in 1966 at the very young age of 35.  Here she is with James Mason's daughter in They Were Sisters 1946 – Below:-
Betty Kane  describes the Sharpes, their car, details of their home perfectly.
They are astounded, and insist that they have never seen the girl before. Robert believes them. But how does she know so much. How can he prove that she wasn't there?
So begins an extraordinary mystery. A crime without a body, without a single drop of blood shed.
Little facts emerge and a picture builds and changes. Progress is slow, and yet a fairly unremarkable country solicitor holds the attention.
Why? Well Josephine Tey can certainly write. All of her characters are distinctive beautifully drawn, her story-telling is assured, her plotting is clever, and she paints a clear picture of a time and place.
The social changes that followed the war are illuminated. The tabloid press take a keen interest. And their neighbours are eager that the women that they perceive to be wicked criminals are punished. There is much food for thought, with every element judged and balanced perfectly.
The story culminates in a brilliant court room scene. The truth is revealed.
It was the right conclusion to a wonderful story.
Micahel Denison had a long career in Film and Theatre and also a good long marriage to Dulcie Gray.  They very often appeared  together and may be better known to TV audiences for their appearance in Howards Way in the late 80s.
Michael and Dulcie 1956 – above Studying a script.
Last Film to be made at these studios :-
Welwyn Studios:-
The final productions made at Welwyn in 1950 were  the comedy Talk of a Million (1951) and The Franchise Affair (1951), which starred husband-and-wife team Dulcie Gray and Michael Denison.   ABPC sold the site shortly afterwards bringing to an end the three-stage studios that had produced over 70 films, and tobacco company Ardath took over the premises in late 1951. The premises were shortly after used as warehouses by DIY manufacturers Polycell. Supermarket giant Tesco cleared the site in 2007.