This was in the summer of 1952
As we celebrate the Queen's 70 years on the throne, in her very first year we can look back, in Cinema terms, and see just how much things have changed. During the summer 'Tarzan's Savage Fury' with Lex Barker was released and just look at the queues – incredible. This was at the Scala Cinema in Worcester. It strikes me that if this film were to be put on again in a leading cinema today, maybe you would have a job to sell even a few seats – but just look at this in 1952.
I remember Peter Haigh reviewing this film and we saw clips from it on the small TV screen we had – in fact the type we all had. It looked very exciting and in those days, with only the one channel, such a promotion there would give a great boost to the film – as it did in Worcester.
Sol Lesser's 'Tarzan's Savage Fury' which stars Lex Barker is proving one of the most successful of all the Edgar Rice Burroughs series. Currently on RKO Radio Release, the film is gaining much added publicity via the 'live trailer' of a 'Tarzan and Jane' on tour. The players are seen on the canopy of the Scala, Worcester, where great queues line the Theatre. Their appearance received front page prominence in the Worcester Evening News and Times
Above – I have tried to close in on this picture above – not entirely successfully but enough to see the look-alike Tarzan and Jane on the Balcony.
The Scala Cinema (1922-1973) was previously a theatre, it opened as a cinema on 27th November 1922 and was the first cinema in Worcester to have CinemaScope installed in 1954.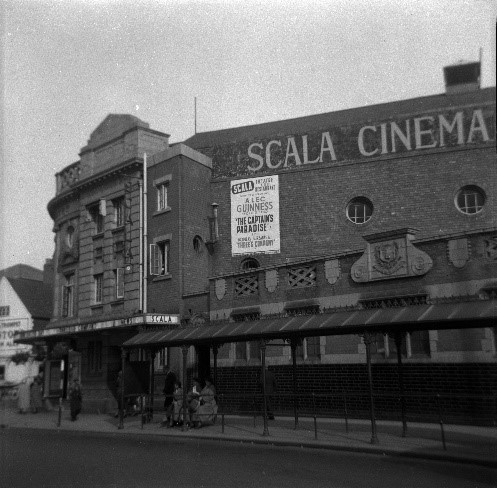 Back to the film – Lex Barker does and did a great job as Tarzan because he just looked the part, and was athletic enough to cope with the demands of this role in five films – I wish he had stayed longer as Tarzan though.
BELOW – Dorothy Hart with Lex Barker – Tarzans Savage Fury 1952
This film is well worth watching for the action and physicality that Lex Barker brings to the Tarzan role, and also for Dorothy Hart's presence and fine acting.
Here in England at the time, was a Television programme Picture Parade on BBC Television – in the very early days of Television, which reviewed new cinema releases.
However I do remember him reviewing this film and showing clips from it one night- and as a small boy to see these scenes from a new and exciting Tarzan film was thrilling – I remember it to this day – and even the clip of film which had Tarzan swimming across a river.
Peter Haigh was replaced in 1962 and went to live in Portugal, where he opened a waterside restaurant. In 1957, he had married the film star Jill Adams.
Interestingly Cy Endfield directed this film – the very last one he did in the USA before he was black-listed for allegedly – and wrongly – being a Communist party member. He then came to England and a few years later had some success with 'Hell Drivers' and then came the big one for him – he wrote the screenplay, Produced the Film and Directed it – it was 'Zulu'
He died in England where he and his family had made their home – in the Cotswold Area.