This is a  must see for all  fans of  Steve Reeves – both  Hercules and Hercules Unchained a year later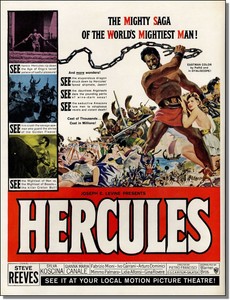 The film starts off with a runaway chariot carrying a damsel in distress, Jole, princess and future bride of Hercules (played by Sylvia Koscina) next we see and hear a tree being uprooted and the next scene we see Hercules carrying the tree and throws it in front of the chariot stopping the horses. The exhausted Jole faints in the arms of Hercules.
Later in the film we see Hercules perform the Labours of Hercules, defeat the Cretan Bull, the Nemian Lion and help Jason find the Golden Fleece and then coming to Jason and his Argonauts rescue as they are being defeated by the evil king. We see Hercules pull chains from the wall and then use them as a weapon to defeat the Kings army first by taking out the evil adversaries one by one and then by wrapping the chains around two pillars supporting the Temple and pulling the Temple down, killing the remainder of the Kings men.
Overall, a good, fun film. To the critics though, you won't find a great plot or academy award winning acting but after all, as has been said many times before,  people come to the cinema to be entertained.
Hercules went on a big box office hit of its time and propelled Steve  Reeves into one of  the highest paid actors for a short time.
Steve Reeves
In 1957, SteveReeves went to Italy and played the lead character in  Hercules  a relatively low-budget epic based loosely on the tales of Jason and the Argonauts, though inserting Hercules into the lead role. The film was a major box-office success, grossing $5m in the United States alone in 1959. Its commercial success led to a 1959 sequel Hercules Unchained – a film I remember well from my teenage years – in point of fact I remember this one better than the Hercules film.
From 1959 through 1964, Reeves went on to appear in a string of sword and sandal films each shot on relatively small budgets,and although he is best known for his portrayal of Hercules, he played the character only twice.
Interesting foot-note though – In Hercules Unchained,  Steve Reeves fights with Primo Carnera the former World Heavyweight Boxing Contender – and although difficult to believe he actually won !!
This was Primo Carnera's last film – he died not long after this film was made
By 1960, Reeves was ranked as the number-one, box-office draw in twenty-five countries around the world.