This is not a film I am at all familiar with but the star is Bill Williams who played Kit Carson in a long running TV series in the 50s.
This film has just come out on February 5 – at the same time as ' Ambush At Tomahawk Gap (1952), which is very good, Apache Ambush stars Bill Williams, along with Richard Jaeckel, Ray Teal, Ray "Crash" Corrigan and Tex Ritter – and  James Griffith plays Abe Lincoln which at this time is very topical with the Daniel Day Lewis film release.
I see that the film has longtime B-western favourites Tex Ritter and Ray "Crash" Corrigan  among the supporting players of this Columbia Western, Apache Ambush. Star of thefilm  is Bill Williams  as Indian scout James Kingston. In the last days of the Civil War, President Lincoln (James Griffith) selects Kingston and two other men — cattle driver O'Roarke (Ray Teal) and "reconstructed" Confederate major McGuire (Don C. Harvey) — to help speed along a major cattle shipment from Texas to the Northern states. One of the obstacles facing the three men is Mexican fanatic Joaquin Jironza (Alex Montoya), who wants to get his hands on the Henry Repeating Rifles which Kingston and his confreres carry with them. Undermining the good guys is embittered ex-rebel Lee Parker (Richard Jaeckel), who is in cahoots with Jironza. So much happens in the first five reels that the climatic Indian ambush is almost an anti climax.
Interesting little note on Apache Ambush is that one of the stars of the film was Movita who was in the original 1935 version of Mutiny on the Bounty with Charles Laughton and Clark Gable –  and now the only surviving actor from that film.   She was married to Marlon Brando who appeared as Fletcher Christian in a later remake of the same story.   She later appeared in Knots Landing the TV series.
I remember Crash Corrigan from the 50s comics we got here in England – and we all know Tex Ritter who sang the theme song from 'High Noon'.
'Crash' Corrigan must have been a very shrewd businessman because in 1937 he purchased land in the Santa Susana Mountains foothills in Simi Valley and developed it into a movie ranch called "Corriganville." This was used for locations in film serials, feature films and television shows, as well as for the performance of live western shows for tourists.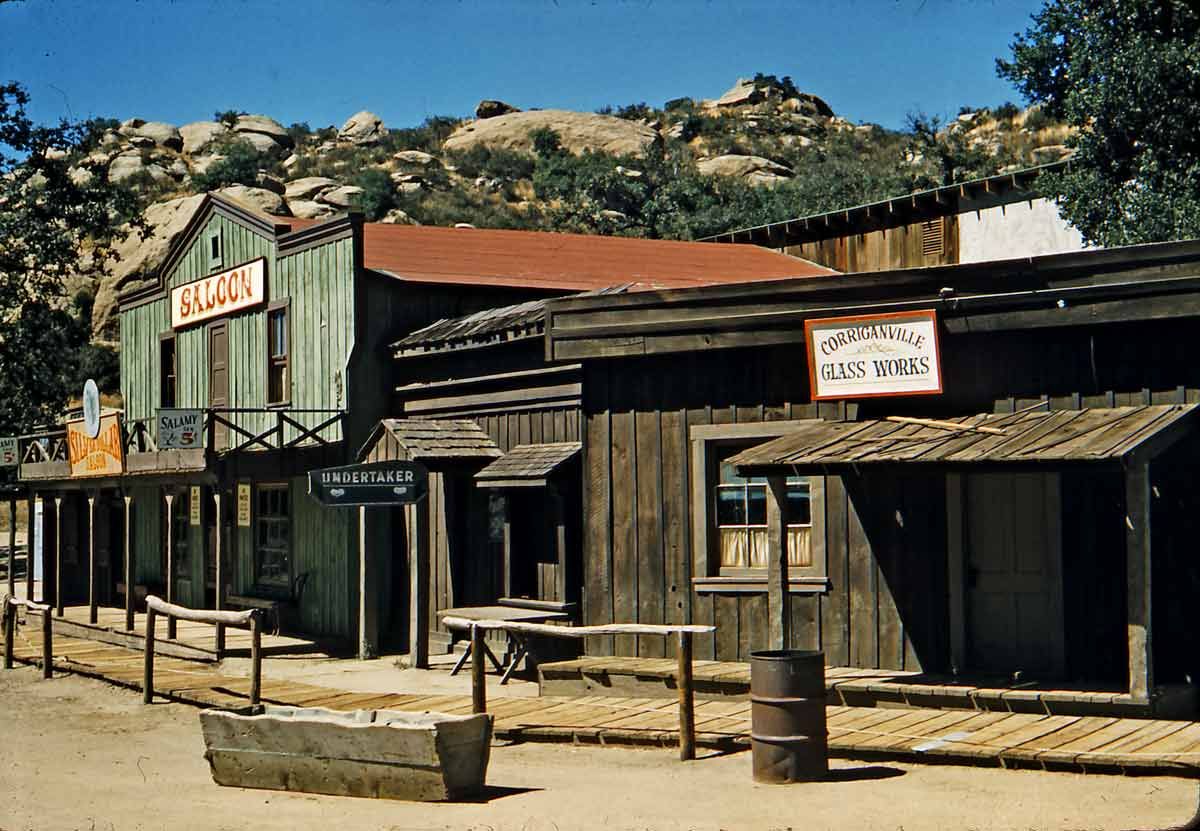 Above – Corriganville – 'Crash'Corrigans movie ranch.
Bill Williams.
Williams married actress Barbara Hale in 1946. They had met during the filming of West of the Pecos 1945  and would have two daughters, Jodi and Juanita, and a son, actor William Katt.
Barbara Hale said about her future husband: 'It took me two years to talk him into marrying me.'
When the film West of the Pecos was being made she  asked  the director, Edward Killy, about casting a smaller role in the film for Bill Williams [her future husband].
She said 'Killy was sort of a stocky man, and had a cigar. He was a short man, and that cigar was about as big as he was . . . He smoked all the time! But he said, "Sure, Barbara, I'll get Bill Williams up here in Lone Pine". He knew I had a crush on Bill. So Killy said, "I'll give him one scene at the beginning of the shoot and another at the end of the picture, so Bill can stay the whole time!". That was so nice of him.
Bill Williams died of a brain tumour at age 77 in 1992.
For his contribution to the television industry, Bill Williams has a star on the Hollywood Walk of Fame.