Who could ever forget this dramatic scene from The Great Escape – where  Archibald Ives played by Angus Lennie  is shot dead by German guards as he attempts to scale the outer fence and escape :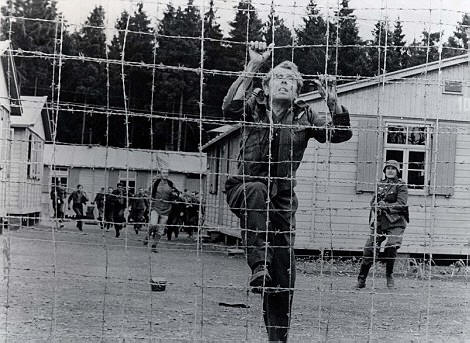 www.youtube.com/watch?feature=player_detailpage&v=utjMzurvz3k
Angus Lennie, the diminutive Scottish actor who played the "tunnel man" known as the Mole in the 1963 prison-camp movie "The Great Escape," died on Sunday September 14th 2014,  in a London  Nursing Home. He was 84.
Mr. Lennie, who was not quite five and a half feet tall, was born in Glasgow on April 18, 1930, and began his career in show business as a dancer and a stand-up comedian. As an actor he was known in Britain for his appearances in numerous television series, but especially as Shughie McFee,  in the very popular English  TV series Crossroads. 
He later appeared on Television in Doctor Who – at that time being played by Patrick Troughton – and in more recent time in Monarch of the Glen.
Above – Angus Lennie and Noele Gordon in Crossroads.