I remember Andre Morell for THREE film roles mainly – in His Majesty O'Keefe, and before that Trio and a while after both as Doctor Watson in The Hound of the Baskervilles.
Looking at his filmography I am reminded that he was also so in So Long At The Fair and with Alan Ladd in The Black Knight- Below
These also get onto my favourite films list.
Andre Morell was a very good character actor who was able to gain acting work regularly both on Television and in Films – of which there were a great many – and most of them memorable.
Looking at all three performances above  the thing that impresses me is how he cleverly underplays his role and in a funny sort of way that almost boosts his importance in all of these parts. Particularly I would say  Trio, although in His Majesty O'Keefe he comes over much better than Burt Lancaster who seems just a bit 'over the top'. With Peter Cushing as Sherlock Holmes was a different matter – two top actors together
Andre Morell  first appeared on screen on TV in the late 1938s, playing Mr Wickham in a version of Pride and Prejudice of all things.  He worked nearly exclusively for TV in those early years, an indication of where Morell would create some of  but some of the greatest performances seen on the small screen.
On film  for David Lean, he played the Colonel in The Bridge on the River Kwai.  Back to the small screen he then impressed as Dr Sloper in a sadly lost TV version of The Heiress before becoming the best of three original Professor Quatermasses in the TV original of Quatermass and the Pitd turned it down for the first two series and would again turn down a chance to reprise the role in  the 1967 film)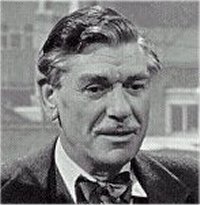 As Professor Quatermass – left
before reuniting with his 1984 co-star Peter Cushing in Hammer's The Hound of the Baskervilles.  Not only is he a wonderfully discrete Watson – one of the best to play this role – and he brings the best out of Peter Cushing.   They brought out the best in each other.  Around the same time he had time to play the outgoing Tribune Sextus in Ben Hur, and not only gave the best performance in the entire film, he suggested a more intelligent look at the politics of Ancient Rome than Hollywood was then willing to consider.
Despite this, he remained stuck in minor parts.  After Cone of Silence and The Shadow of the Cat,  he was again paired with Peter Cushing in Cash on Demand,  cast as a Sheik in She  and then there was another memorable part for Hammer, in The Plague of the Zombies.  There was also a guest appearance in Doctor Who opposite the outgoing William Hartnell sandwiched between The Mummy's Shroud and The Vengeance of She, before one final glorious small screen part as Tiberius in The Caesars.  While Freddie Jones' memorable Claudius and Ralph Bates' Caligula drew most of the acclaim, it was Morell's Tiberius who was the backbone of the series, at once stoic, pragmatic and cruel and absolutely imperiously Roman.
There would be a few other parts, as Cicero in the 1970 Julius Caesar, in 10 Rillington Place and snubbing Kubrick's upstart Barry Lyndon.  Then another role to treasure, Lord Palmerston in Edward the Seventh.  Illness was taking hold and his performances were becoming even more fleeting than his glorious wife Joan Greenwood. He died of a heart attack in 1978 at the age of 69.