Kangaroo (1952)
Kangaroo was the first big-budget US production in Australia, but was not a great success.
An Australian Style Western film by Twentieth Century-Fox brought American stars Maureen O'Hara and Peter Lawford along with other well-known actors from the US and Britain to play Aussie characters in the bush again.
The film had an American director and writer, but predictably included Chips Rafferty as the local policeman, a young Charles 'Bud' Tingwell as a poverty-stricken stockman, Aboriginal actor Henry Murdoch in another of his many appearances as a stockman. The story was a complex one of two city conmen out to swindle Maureen O'Hara's dad out of his cattle station. The film ticks the boxes for Australian wildlife and exotic people, but was not liked by critics for its clumsy script. It failed at the box office in both countries.
Filmink magazine said that "This film isn't as bad as its reputation (Richard Boone is excellent as Lawford's friend and there's some great visuals), it's just frustrating because it should have been better – it's flabby and goes all over the place, Lawford is a wet fish of a leading man, and it needs more action… It would have been more entertaining if it had embraced being a Western more.
Maureen O'Hara claimed that Richard Boone and Peter Lawford were "rude and disrespectful to many Australians and to the press as a whole and the Australians came to dislike them both with a passion."
Maureen O'Hara wrote that 20th Century Fox told her to make a personal plea to the press not to report the arrests of Richard Boone and Peter Lawford in a gay brothel with underage boys.
It was the first Technicolor movie filmed on-location in Australia.
Tyrone Power was originally intended for the lead role of John W. Gamble which in the end was cast with another American actor, Richard Boone. Other names had been talked about – Richard Widmark and Errol Flynn and Jean Simmons in the Maureen O Hara role
Hollywood star Maureen O'Hara had to contend with swarms of flies and being "clawed something awful by a cuddly koala" during the shooting of the film Kangaroo around Port Augusta.
South Australian premier Tom Playford gave a housing estate at Port Augusta to be used by the cast and crew of 1952 American 20th Century Fox film Kangaroo. Dubbed "Zanuckville" (after producer Darryl Zanuck), the estate housed up to 150 people to shoot the first Technicolor film in Australia, directed by Lewis Milestone.
Playford also turned on a gala reception for the film's star Maureen O'Hara (with Peter Lawford, Finlay Currie, Richard Boone, Chips Rafferty and Charles "Bud" Tingwell) when she arrived in Adelaide from Sydney in late 1950.
The film was made using Fox funds "frozen" by the Australian government under postwar restrictions. Although Kangaroo wasn't a critical or box office success, about £446,000 was spent in South Australia on the production.
Milestone moved the setting to Port Augusta because the original New South Wales locations looked no different from Southern Arizona and California. Milestone also extended his 61-day shoot to seven months.
Problems piled on from there. Temperatures were very high in Port Augusta but rain kept occurring. The script was constantly rewritten (action changed from the 1800s to 1900) and the isolated "Zanuckville" had trouble sourcing materials, with equipment and costumes needed from Hollywood. Scenes were shot at Wolundunga Station, at the foot of Mount Brown, at pubs and places in and around Port Augusta and on a coastal ship at Moonta.
Rain wrecked Lewis Milestone's wish to suggest drought for his key scene of an attack by water-starved kangaroos. Among other mishaps, a sound technician was paralysed after being bitten by a spider and Lawford lost 12 pounds during the shoot and his hair started to fall out. An Aboriginal group from Ooldea (also used in the Bitter Springs film) staged a special dance at Spear Creek near Port Augusta. When drought arrived, cast and crew attended a "native rain dance" and the next morning it rained, enabling the film downpour climax.
In her 2004 autobiography, O'Hara claimed Boone and Peter Lawford were "rude and disrespectful… and the Australians came to dislike them both with a passion". She said they were arrested in a "brothel full of beautiful boys" in Melbourne but she said the studio prevented this being reported by having O'Hara make a plea to the press.
O'Hara recalled "Australians were so excited to have us there and were one of the most gracious people I have ever encountered on location" but she "cried many nights" during the shoot. "Lawford and Boone were horrible to me even though I had saved both their hides … I still had to fight off a swarm of flies for every mouthful of food. I was even clawed something awful by a cuddly little koala bear during a scheduled photo shoot."
ABOVE – The main three actors Richard Boone, Maureen O Hara and Peter Lawford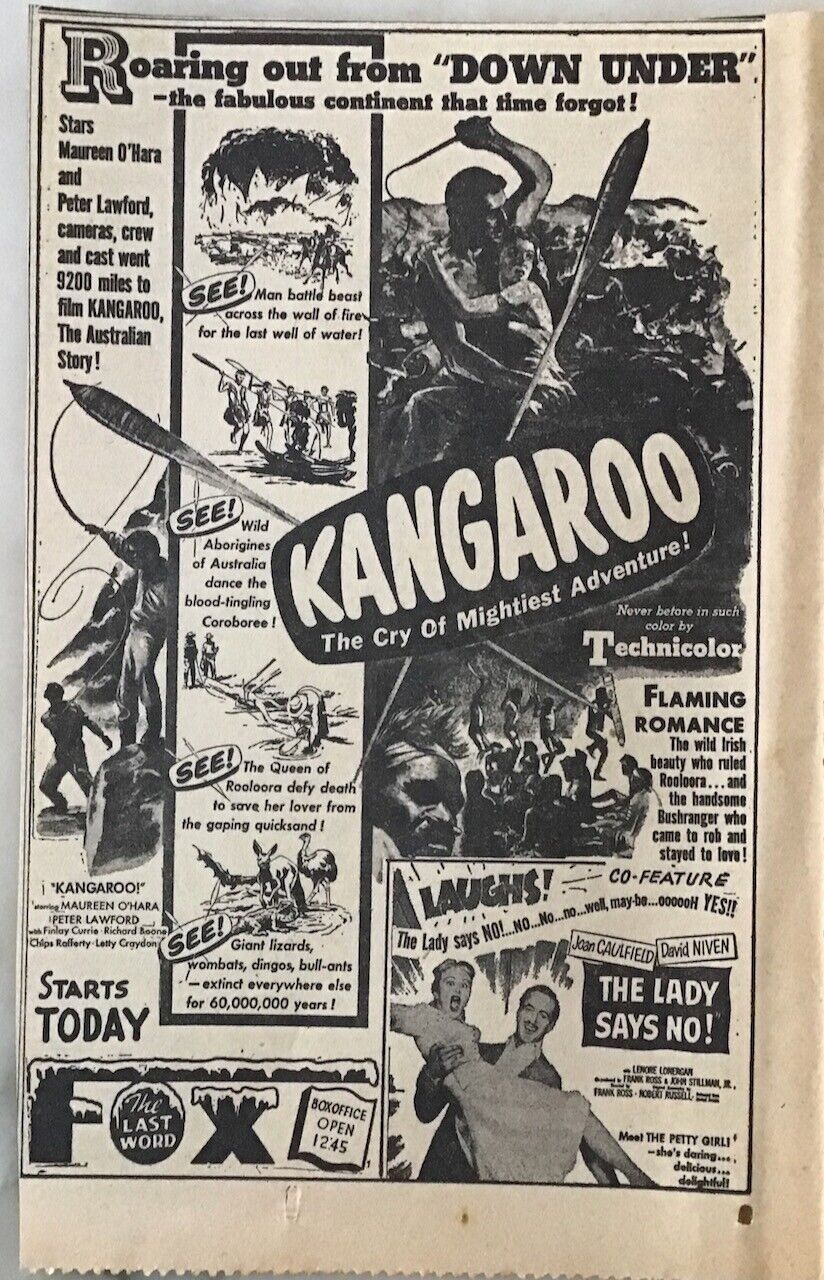 A Newspaper Advertisement of the time ABOVE
It strikes me that a few tears before this another film ;Diamond City' was made and this one was another 'Western Style film but this time, set in South Arica. This film too was a flop at the Box Office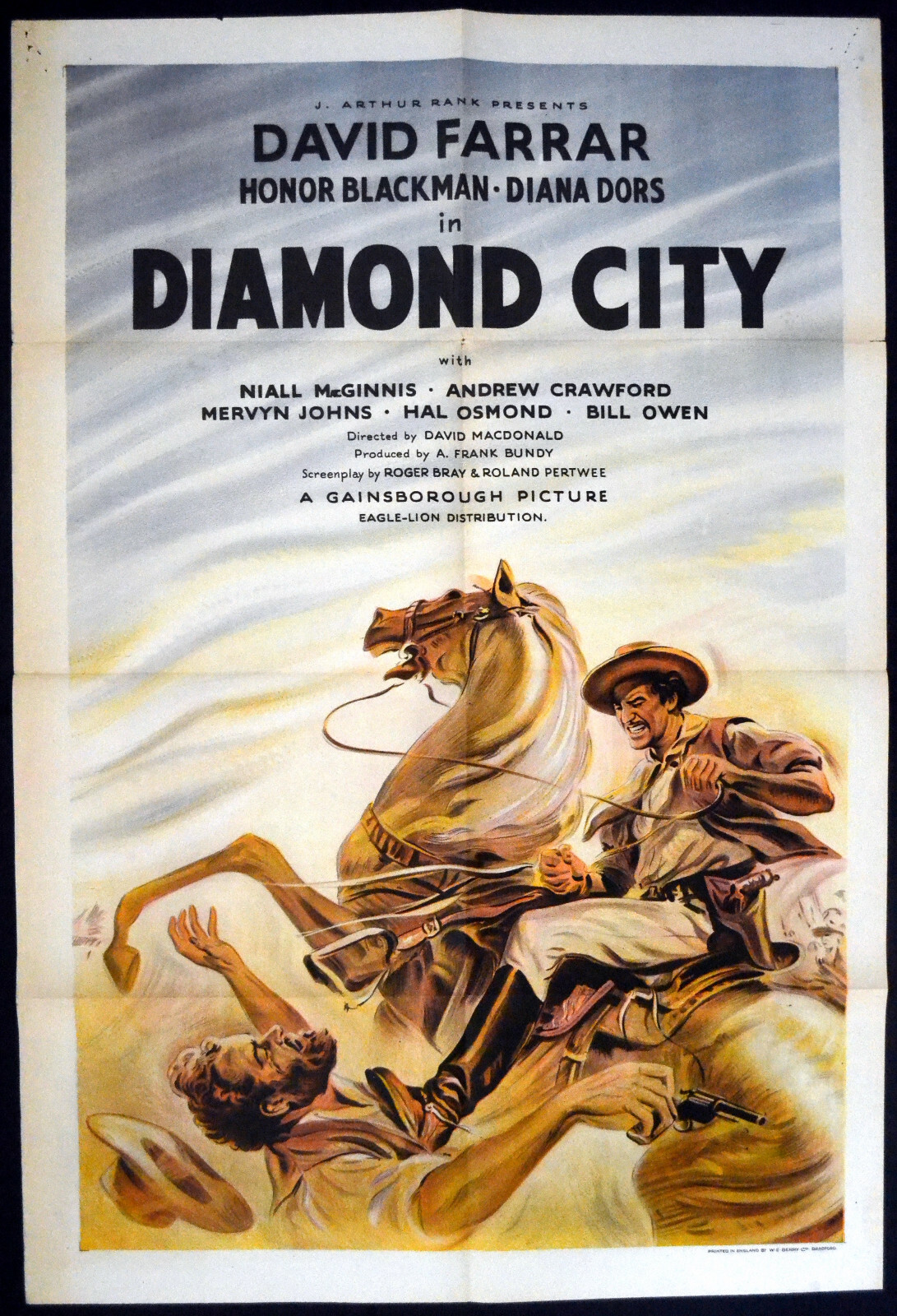 Then shortly after this came 'Long John Silver' with Robert Newton filmed in Cinemascope but this was made just North of Sydney – this one was quite successful