Now I really am cheating a bit here ( again) because this film was made in 1946.  However my recollection of it was a film in the fifties shown on Television around Christmas time – and what better film to show at Christmas !
So I have decided to bring it to the Filmsofthefifties Blog here.
James Stewart stars and gives the acting peformance of his life as George Bailey a young man who dreams of travelling the world  but somehow never does and he stays in Bedford Falls,  marries and raises a family devoting his life to working for the benefit of his many friends in the town through difficult times.   However misfortune befalls him and he is faced with despair and ruin.  He contemplates taking his own life but a guardian angel in the unlikely guise of Henry Travers visits him and shows him how life would have been had he never been born.
He pleads to be given a second chance and finds out how much he is loved and valued.
It is a truly great story with James Stewart's performance as George Bailey absolutley magnificent – and one that will live in the memory.   His wife is played by the lovely Donna Reed who I feel never got a part as good as this one again although she had a long career.  The cast reads like a whos-who of Hollywood actors with H.B.Warner, Beulah Bondi, Henry Travers, Lionel Barrymore, Thomas Mitchell,  Frank Faylen, Gloria Grahame and Ward Bond among many others.
 James Stewart and Donna Reed – above.
The scene where James Stewart prays on the bridge and in an anguished prayer asks God to 'Let me live again' must rank as one of the most tear jerking moments on film but it is the culmination of the build up to the ruin he faces and his misjudged perception of letting down  his friends and family.  He is of course saved and surrounded by his loved ones and his family realises that he truly has a Wonderful Life.  The last moments of the film  are filled with joy and happiness.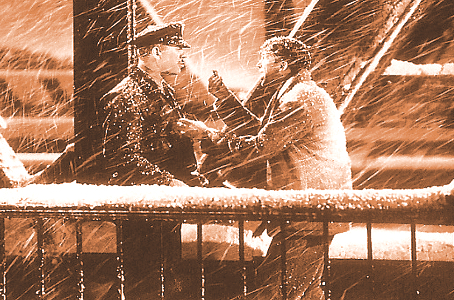 Above – George Bailey with his friend played by Ward Bond – After the famous 'Let Me Live Again' prayer.
Actual Filming.
It's a Wonderful Life was shot at the RKO Studio in Culver City, California, and the 89 acre RKO Radio ranch  in Encino, where "Bedford Falls" consisted of Art Director Max Ree's Oscar winning sets originally designed for the 1931 epic film Cimarron that covered 4 acres , with a main street stretching 300 yards,  stores and buildings, and a residential neighbourhood.  Capra built a working bank set, added a tree-lined centre parkway, and planted 20 full grown oak trees to existing sets.                                        
Pigeons, cats, and dogs were allowed to roam the mammoth set in order to give the "town" a lived-in feel.   Due to the requirement to film in different seasons, the set was made  extremely adaptable.   RKO created "chemical snow" for the film, made up of crushed cornflakes. Filming started on April 15, 1946 and ended on July 27, 1946, exactly on deadline for the 90-day filming schedule.
RKO's  movie ranch a filming location of "Bedford Falls", was demolished in 1954. There are only two surviving locations from the film. The first is the swimming pool that was unveiled during the famous dance scene where George courts Mary. It is located in the gymnasium at Beverly Hills High School  and is still in operation as of 2008. The second is the "Martini home", at 4587 Viro Road in  Flintridge, California.
Above Karolyn Grimes – who played Zuzu in the film visits the town which it is said Frank Capra based Bedford Falls on – the town of Seneca Falls i New York State.
Sixty-five years ago Bedford Falls was the  talk of the town as the setting for Christmas classic 'It's a Wonderful  Life'.
Residents from the New York village say it  served as director Frank Capra's inspiration for the design of the famous  fictional town.
Karolyn Grimes who starred as six-year-old Zuzu in the 1946  movie visited Seneca falls last year – see above picture.  The actress divorced and her former  husband was killed in a hunting accident.  She married again, and her son  committed suicide and second husband died of cancer.
She made a few films up until 1952. Her Hollywood career ended with her parents' deaths when she was a teenager.   She was then sent to live with her aunt. She eventually became a medical technician.
One of her most vivid memories of filming "It's a Wonderful Life" was the large Christmas tree in the Bailey house. Karolyn's' own family had a two-foot-tall tree that stood on a table.  She also said that she enjoyed the snow on the set, even thought it was artificial, because she had never seen real snow.  She still has an angel ornament from the Christmas tree in the film.
Bedford Falls.
Wouldn't it be dreamland to be able to visit Bedford Falls and have a good look around the place that is so familiar to us – but none of us has ever been.  I think if we offered excursions they we would be 'fully booked' continuously particularly at this time of year.