I know this cinema very well – or at least did do when it was the Odeon and went there many times in the mid to late 1950s when we saw such films as His Majesty O Keefe, Trapeze and Gunfight at The OK Corral – all good films by any standards.
In my own mind I have His Majesty O Keefe was the best of the lot because it gave us a look at the South Sea Islands – and my goodness it did look good. So did Joan Rice who starred in the film.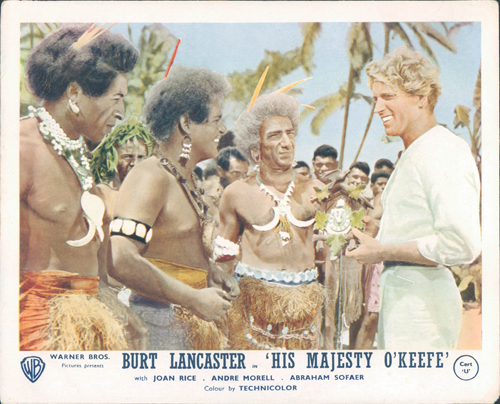 On a very recent visit to St.Albans, I was shown round the new cinema and chatted to some of the young people who worked there. It is now a first class venue – about as sumptuos as you could ever get.
Also the choice of films interested me – of course there were all the new releases but also an old film was shown each month and when I was there it was to be The Third Man ( which one of the young girls had never heard of ) and this month Jaws is showing.
His Majesty O'Keefe (1953) – Starring Burt Lancaster Some scenes were  shot in the country's capital – Suva.
A picture from around the 1940′s and 50′s in Suva, Fiji. Around the time His Majesty O'Keefe would have been filmed.
Filmed in Fiji in the South Seas.
The Odyssey Cinema was originally built in 1931 during the golden age of Cinema. It was one of three Cinemas in St Albans and is the last one that survives. This building was originally called the Capitol and then from 1945 The Odeon. It was converted to 3 then 4 Screens and closed very unjustly in 1995 and laid empty.
James Hannaway of The Rex Cinema in Berkhampsted was offered the building in 2010 by the property developers that wanted to demolish it. With the help of local donations and fund raising Mr Hannaway purchased the building then spent several years raising funds to restore the building. The building reopened as a restored single screen cinema on 29th November 2014 and fully to the public on 13th December 2014.
The Cinema is breathtaking the original Art Deco features that remained have been incorporated into the new scheme and the end result is an auditorium which is beautiful and a true picture palace which harks back to a bygone age . Unlike the multiplex's The Odyssey has Screen Curtains and all the sense of occasion and grandure that a visit to the cinema used to have. In the Stalls area tables with swivel seats offer a different experience as you can sit at a table with a drink and then turn towards the screen as the film starts. In the balcony the rows of seats have massive amounts of leg room and the seats themselves are all armchair type offering the height of comfort.
The Odyssey technically is brilliant it has a massive Screen with the very latest digital projection technology, the sound system is the very latest reactive sound system and has the surround speakers hidden in the walls, the Odyssey offers sound and vision better than West End Cinemas in Leicester Square. The Cinema in summary is a beautifully restored Art Deco masterpiece